Categories:
Historic Smulekoff's building escapes flood damage
Suppliers opened at midnight for pumps, generators
More than a dozen hoses pump water back into the Cedar River out of the Smulekoff's in downtown Cedar Rapids on Wednesday, Sept. 28, 2016. (Michaela Ramm/The Gazette)
George C. Ford

The Gazette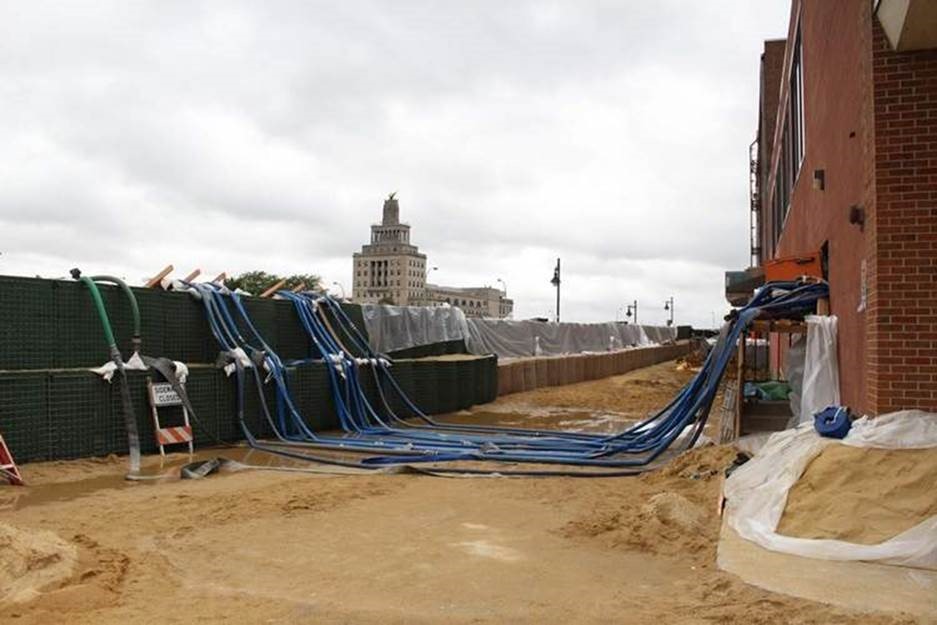 Sep 28, 2016 at 2:39 pm |  Print View
CEDAR RAPIDS — Eight years after the raging Cedar River slammed through the front windows of the former Smulekoff's Furniture building at 97 Third Ave. SE, building owner and developer Steve Emerson on Wednesday said the structure sustained only minor basement flooding this week.
"We were pumping out about 1,300 gallons per minute, and it was just keeping level at about a foot deep in there," Emerson said. "We didn't have anything in the basement, which is part of our flood-proofing plan.
"We figured as long as we kept it below five feet, we were fine. We were pumping out about 1,300 gallons and 1,300 gallons were coming in during the river's crest."
Emerson credited Campbell Supply Co. and Altorfer, both of Cedar Rapids, for when he needed pumps and electrical generators.
"We were going out to Campbell Supply Saturday to buy additional pumps. They opened their building at midnight for us, which was awesome," he said. "Altorfer also was bringing us stuff down at midnight. We had gas pumps that we never had to turn on."
The basement of the 100,000-square-foot, five-story building will need to be dried out when the water stops coming in. Emerson added that probably will happen this weekend or early next week as the river level continues to fall.
Emerson bought the Smulekoff's building from the city of Cedar Rapids in March for $415,000.  He is spending about $15 million to remodel the building for retail, offices and 32 micro-unit apartments.
Eastbank Venue and Lounge, owned by Adam Covington, opened on the first floor in July with its first event, a wedding reception.
Construction crews on Wednesday were working in the back of the building, removing drywall and other materials as part of the remodeling project. Equipment and supplies were moved from the first floor to the second floor in anticipation of potential flooding.
Emerson said the flood is prompting him to revise his plans for the back of the building.
"We will spend $10,000 or $20,000 on permanent pumps so we don't have to drop them in later," he said.
For all of The Gazette's Flood 2016 coverage, please visit our flood coverage center.