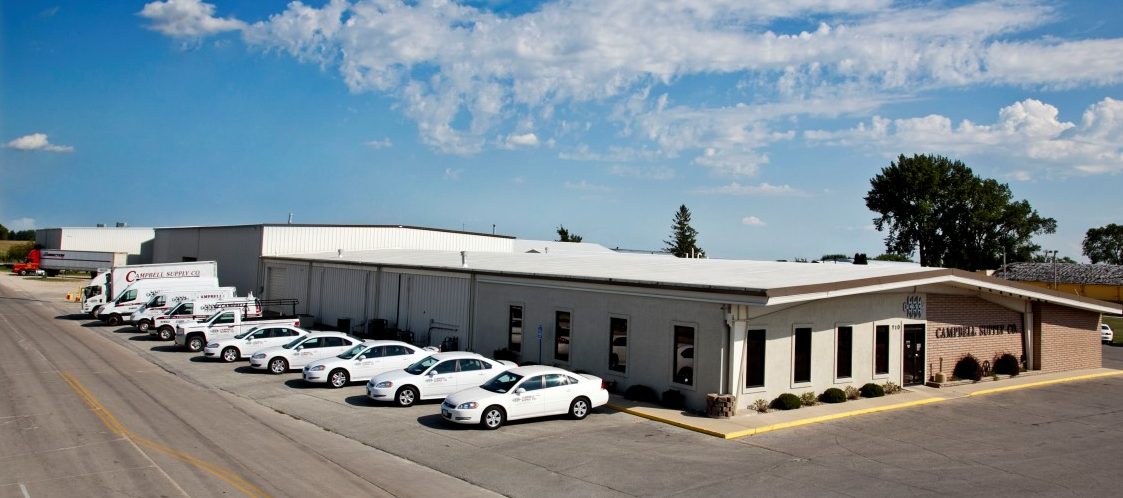 Established in 1963, Campbell Supply Co.'s Headquarters is in the Scenic City of Iowa Falls; centrally located in Iowa with quick access to Highway 20 and Interstate 35.  
This branch has 5 experienced territory managers calling on accounts in the areas of Surrounding towns such as Hampton, Eldora, Webster City, Fort Dodge, Mason City; stretching out to Des Moines, Grinnell, Marshalltown, Newton, Oskaloosa, Pella, Sully; Ames, Boone, Carroll, Jefferson; Albert Lea, Algona, Eagle Grove, Forest City, Humboldt, Ida Grove; Cresco, Manchester, New Hampton, West Union, etc…  Supporting our Customers from the inside we have a Sales Team with over 75 years combined experience with Campbell Supply Co.  This product knowledge and background helps our customers find solutions and product recommendations for all of your Industrial and contractor needs.  The Iowa Falls location offers free daily delivery routes across the state supporting our customers.  A daily Transfer Truck runs daily across the state to all of our branches insuring we have inventory when and where it is needed. 
Campbell Supply is a strong supporter of the Hardin County Community Endowment Foundation; meeting the new and emerging needs of the county.  Focus areas include Arts and Culture, Community Betterment, Education, Economic Development, Health & Human Services, and Recreation & Environment.  Campbell Supply is active and supports the annual 4th of July Riverbend Rally and Winter Fest events.
Team up with Campbell Supply Co. to build a stronger future!
Iowa Falls – Corporate Headquarters                                         Store Hours
710 South Oak Street                                                                             Monday – Friday
Iowa Falls, IA 50126                                                                                7:00 am – 5:00 pm
1-800-782-5134
(641)-648-4621